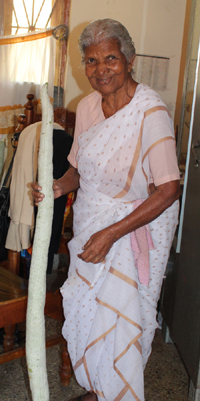 Mrs. Lily Abraham was born March 12, 1930 to Yohanan and Lizy in Kottarakara, Kerala. She was the only daughter among three children. Her schooling and college education was in Trivandrum. She had accepted the Lord Jesus as her personal Savior at the age of 8 years, and bore testimony through baptism in water in her late thirties. She was filled with the Holy Spirit according to Acts 2: 1 -4. She was married to the Late. Aaron Abraham in 1948 and had two beautiful daughters, Ammini and Dolly. She retired as a Deputy Tahsildar in 1984 and spent some years in the U.S. afterwards. She returned to India after losing her husband in 1996.
She led a very simple life, and was loving and compassionate. She was one to give instruction and advice to many. She opened her house for church services in 1975, like Lydia in the Bible. She personally supported many families including servants of God. Everything she did was to glorify God. She was very active in the ministry and devoted her life to serve the Lord in any way possible. She unselfishly gave her life to the welfare of others. Upon moving to Thondebhavi, Karnataka in 2001, she became "everyone's beloved Ammachl." She committed her life to serve the unfortunate and left an excellent example of how to live by her words and her actions.
On March 15, 2014, the sun set on her life. The loss of Mrs. Lily Abraham will be shared by her daughter, Ammini Mathew & Rev. Joseph Mathew; daughter Dolly Prasad & Rev. Prasad K. George; grandchildren, Jimmy, Ann, Jennie, Beulah, and Priscilla; and brother J. Simon and family.
We will all miss her beyond what words can express. The Lord himself enters into our suffering with us and gives us His peace. He pours Himself into our emptiness, draws us to His bosom, and assures, "…weeping may endure for a night, but joy comes in the morning." Psalm 30:5. The hope that we have in Christ sustains us. The promise of eternal life is our comfort. Until then, "…let us run the race that is set before us, looking unto Jesus, the author and finisher of our faith." Hebrews 12:1-2. And we fix our eyes not on what is seen, but on what is unseen. For what is seen is temporary, but what is unseen is eternal." 2 Corinthians 4:18.
This is our hope and this is our comfort.