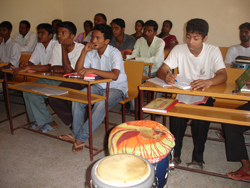 There is a great need for missionaries speaking their native language. For this reason, we have constructed a Bible College in our new campus (Thondebhavi whish is about 55 KMS from Bangalore City, Karnataka State, South India). URBC opened its doors July 3, 2004, offering courses in B.th, G.th & C.th.
URBC is not just for those who are called to "full time ministry". We are here to equip Christians with the Biblical understanding they need to lead a victorious life and to be a better witness in their own circle of influence. The college is open to those who have a desire to strengthen their walk with God and to be better equipped for service in their own church.
Our goal is to instill in each student the vision to take the Gospel to the unreached; provide on-the-job training through ongoing outreach ministry; give them quality instruction in the Word of God; and prepare them for pioneer work, hardship, persecution and a life of faith through Jesus.
The two-to-three-year training course is intensive and the classes are held in the local language as well as in English. Apart from their studies, priority is given to personal character building and prayer.
Student admission requirements:
must have a personal relationship with Jesus Christ
must have a call from God for full-time ministry
must be committed to go to unreached areas
Please contact us by e-mail for further information about enrollment, etc:
E-mail: info@upperroommission.org